You do not have to feel overwhelmed in trying out gluten free foods or including gluten free ingredients in your meal. The good news is that there are quite a few foods out there that can be included in your snack, dinner, lunch or breakfast without you having to search for them overly. All you need to do is fire up your imagination or be creative with your ingredients to arrive at a diet plan that will not only satisfy your food cravings but also keep your health in check.
Given below are 11 wonderful gluten free foods that you should definitely try out to improve your health:
1] Rice is among readily available grains across the world. The best part with rice is that it is available in different forms ? brown rice, white rice, wild rice and long grain rice. If possible, try using brown rice regularly over white rice as the former is rich in nutritional value.
2] Pasta is liked by a majority of us. If you too like binging on it then it is suggested that you try out gluten free pasta that is available in different grains like, corn, white rice, brown rice, tapioca and many others. Trying out gluten free pasta can be as simple as homemade soups, a casserole, cold pasta salads, spaghetti and a variety of other dishes.
3] If you are a regular flour user, consider using gluten free flours that are readily available across marketplaces these days. Your may need these flours to thicken your sauces, provide coatings on meat, preparing bakery items or breakfast items.
4] Quinoa that is actually a part of nut family is a wonderful source of protein. Being a versatile gluten free food you can use quinoa to prepare warm or cold salad, main meal, hot breakfast cereals and so on. The best part with all this is that the meal made out quinoa can be prepared in a matter of few minutes.
5] Those that had to go on a gluten free diet often had to skip breads for obvious reasons. However, the good news is that gluten free breads are now available in the market and can be used for not preparing a quick sandwich but also be served with eggs or fruits for a healthy morning breakfast. It is also possible to freeze gluten free bread, just in case you need to have them a few days later!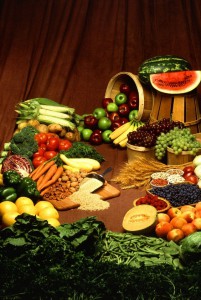 6] You can always consider having fresh fruits and vegetables in your diet as they are high on fiber. While you can always have veggies with your perfectly cooked brown rice or salads, fruits can be used in the form of smoothies or on pancakes, just in case you do not like them having directly.
7] You will no longer need to pay a lot to have cereals that are labeled as gluten free in a specialized store near you. These days, you are sure to have choices in the form of Pebbles, Rice Crispies, Chex and many others. While you can have all of these directly, they can also be added to trail mix, used in bars or for coating meat.
8] Nuts that are a favorite with lots of people as a snack item can also be used to add a bit of crunchiness to a cold pasta salad or lettuce salad.
9] Consider replacing your regular oils with healthier alternatives like Grapeseed oil or extra virgin olive oil. They not only taste great but offer you a healthier choice.
10] Legumes or beans can also be used regularly in your gluten free food items as they are an excellent source of fiber. You can consider using them in your soups, chili, casserole, green salad and potato dishes.
11] Eggs do not contain gluten in them and therefore you can consider stocking them up in your house to prepare a variety of dishes.