A majority of restaurants and the people behind them claim to offer gluten-free options to its patrons these days, but how many of these claims are really legitimate?
Is there a way wherein you can maximize your chances of finding eating joints that truly serve gluten-free foodstuff to you?
The challenging place for celiac?
The land of pizzas and pasta, Italy, was the one I always thought to be a nightmarish place to visit, especially for a person like me who is a celiac. After all, can something stop you from thinking that Italy is full of gluten with all that bread, flour, cooking water full of gluten, and others? The picture isn't that bad when it comes to this country, at least this is what I felt after I toured it some time back.
It is quite interesting to note that in Italy, a certain Italian Coeliac Society has been running a program pertaining to certifying restaurants on the food they serve. The modus operandi is simple – one of the local volunteers of the organization goes to a restaurant in his neighborhood that is keen to serve gluten-free food and passes on knowledge on how to prevent cross-contamination issues.
That's not all; the volunteer makes more inspections in the coming days, just to check whether they're following it or not and certify them accordingly. It is sad that nothing like this has happened here in the UK, at least till now. An approach like this is needed to understand what it means to remain gluten-free.
Asking relevant questions
•Does your chosen restaurant know that your meat cannot be grilled on the same grill where the buns were previously toasted?
•Your fries cannot be cooked in a fryer that already did its job for foods containing gluten.
•Is your Italian restaurant keen to make your pizza in a different oven, one in which gluten-free pizza is always prepared and not the regular pizzas?
•Your pasta cannot be cooked in the same water that is used for cooking pasta made out of wheat!
Are there are any restaurants that can claim to be totally gluten-free?
In my hometown of Udupi, India, I regularly eat seafood at a popular restaurant called Royal Inn. I trust the place so much because they only cook food that is absolutely natural, or gluten-free.
The chances of cross contamination simply don't exist. What is also remarkable about this place is that they use fryers only for frying potatoes and nothing else.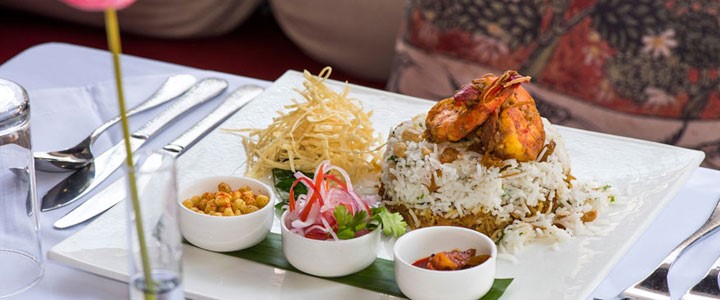 Another eating spot I frequently visit is Pisces. What is good about them? They don't use wheat on their premises! In fact, they smash potatoes to thicken their sauces.
These are just two examples I can think of straight away. However, there are quite a few of them in reality. As most restaurants' menu is available online these days, it is fairly easy to check out whether the food they serve is risky or not.
If half of the items they serve contain bread or wheat then it is better to have that restaurant blacklisted on your list.
Different steps for choosing gluten-free restaurants
With all the tips mentioned above, it is clear that one need to look beyond a restaurant's menu card to remain gluten-free. Here are some basic steps you can follow to identify gluten-free restaurants:
•Complete your homework,
•Mark down restaurants that lay emphasis on organic stuff or at least, natural substances,
•Make sure you communicate well with the restaurant before you get down to ordering food. This way you know that you evaded risks.